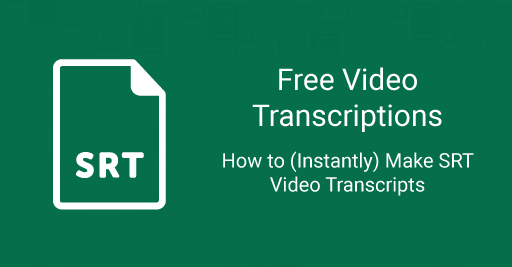 *The method below also works for .VTT and .SBV video transcription formats
These days promoting your videos on YouTube, Instagram and other social media sites is crucial if you want them to be seen. Equally crucial is including video transcriptions (video transcripts) when you upload, which is how closed captions are made. Video transcriptions are essential for providing great user experiences and for increasing the chances that your videos show up on search engines.

So how do you make them?

Creating video transcriptions on YouTube has been available for years, but when it comes to making them for other platforms, like LinkedIn or Instagram, it's a bit trickier since other platforms require video transcriptions to be in a special format called a SRT file (SubRip Subtitle).

SRT files are typically made two ways: manually – which can be ultra time-consuming, or using paid transcription software like Rev.com, who charges $1/minute for their video transcription services.

If you want to save time and money, here's how to make SRT video transcription free:
First, create a video transcription using YouTube and a .TXT file (here's how we do it):
1. Add your video script (the text of what is said in the video) to a Google doc
2. Download the Google doc as .TXT file
3. Upload new .TXT file to "Transcriptions" section of your video in YouTube's Creator Studio
4. Set Timings and Publish the video transcription
Once you've created a video transcription for the YouTube video, it's time to download your .SRT file

Now you can instantly download your video transcription in .SRT (or .VTT, .SBV) format
1. Go back to the "Transcriptions" section of your YouTube video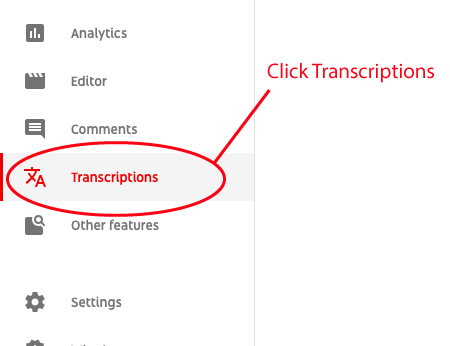 2. Click the square under the "Subtitles" section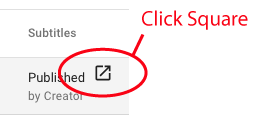 3. Click the "Actions" dropdown menu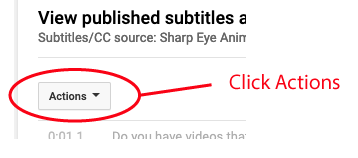 4. Click ".srt" under the download options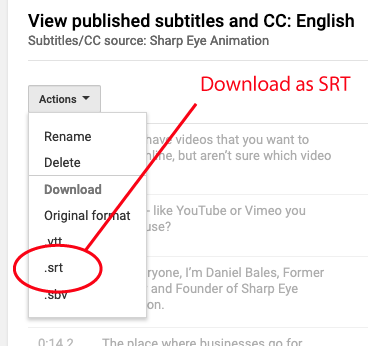 And that's it! Your new .SRT file will download instantly. You can then use it for your video on other platforms, including LinkedIn and Instagram.

If you've properly Set Timings (step 4 above), your new .SRT file will be time-coded correctly for all platforms. Happy transcribing!

Have questions? Contact Sharp Eye Animation to discover why we're the company marketing teams turn to for their end-to-end video needs.
Sharp Eye Animation is founded by former Google video lead and marketing specialist. The company provides end-to-end video marketing solutions for startups, enterprise companies and everyone in between.