A recent study by Google found that online shoppers often take different purchase journeys when buying products online. Some journeys start and end entirely on smartphones and tablets, while other journeys were done entirely on a desktop computer, for example. While each journey in the Google study was unique, they found three common themes among the deal-seekers: they all invested in some type of research, they relied heavily on mobile devices, and they don't just focus on gifts (they shop for themselves too).
The study provides great insight into the behavior of a shopper, but how can video help you take advantage of the findings? Here are our top 3 ways: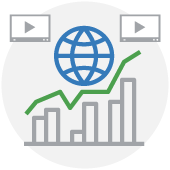 of people find video helpful when deciding what to buy online 
1
1. Videos help shoppers research
In Google's study, All of the buyers started out on their journey by first doing research. Video is an ideal medium for buyers, since they get important messages across better than a text-laden webpage. In fact 72% of people find video to be helpful when deciding what to buy online1. Use a short, yet descriptive product video to give shoppers the information they're looking for while shopping.
2. Videos help shoppers who are considering a purchase
Use videos to address frequently asked questions that could be potential deal breakers to the shopper. If you sell clothing, for example, showcase someone wearing your product to make it easier for shoppers to visualize what it might look like on him or her. This can remove friction between you and the shopper and lead to more sales.
3. Videos enhance your post-sale communications  
As Google's study found, when people are shopping for others they tend to also shop for themselves. This means that while you have a shopper's attention you also need to be giving them high-converting content, which happens to be video. Even post-sale you should be emailing links to other product videos directly within receipts, for example (or on your confirmation page), which can spark new interest and lead to more sales.
Conclusion
Google's study of Black Friday purchases surfaced three important findings, all of which video plays an important role in enhancing. By making videos and sharing them with shoppers at the right times you can help guide them throughout their journey and drive more business. Since 2012, Sharp Eye Animation has been helping businesses with their video marketing needs. To learn more check out our blog or contact us today to get started on your own video.