Explainer Video Case Study: SuiteDash Uses Video to Improve Online Metrics
SuiteDash lifts organic search engine rankings with help from 90-second explainer video
"We knew we needed a great video that educated, and grabbed viewer attention using humor. We partner with Sharp Eye because they allow us to fine tune every element of our video so we know all our videos will turn out exactly how we envision.
Mike Lambert, Founder, SuiteDash Software
About SuiteDash
SuiteDash is an all-in-one software solution that combines common business tools into a pre-integrated, white-label ready platform. Customers can access custom client portals, securely exchange files, easily manage projects, create and send invoices, and more. It's used by 20k+ people in 50+ countries worldwide.
Challenge
As a comprehensive, all-in-one software solution, SuiteDash looked to make it easier for prospects and website visitors to quickly understand the important features and benefits it provides. It also wanted to expand and improve it's online reach while improving conversion rates and online sales.
Approach
SuiteDash increased investment in it's online marketing, which included partnering with Sharp Eye Animation to create a short video highlighting the software's features.
The video included a character-based approach and took a humorous approach to grab – and keep – viewer attention. The explainer video was then added to the company's homepage (see image at bottom) and YouTube channel.
Results
22% increase in daily time spent on the website (9:48 to 11:29)
62% increase in global internet engagement (90,814 to 33,864)
16% decrease in website bounce rate (27.9% to 23.3%)
We can't say enough about the 'next-level' quality, service, process & personal touch provided by Sharp Eye Animation. This is the 3rd or 4th project we've been a part of with Sharp Eye, and they have always met & exceeded our expectations. If you're serious about getting a great result, do yourself a favor and go with Sharp Eye Animation!
Mike Lambert, Founder, SuiteDash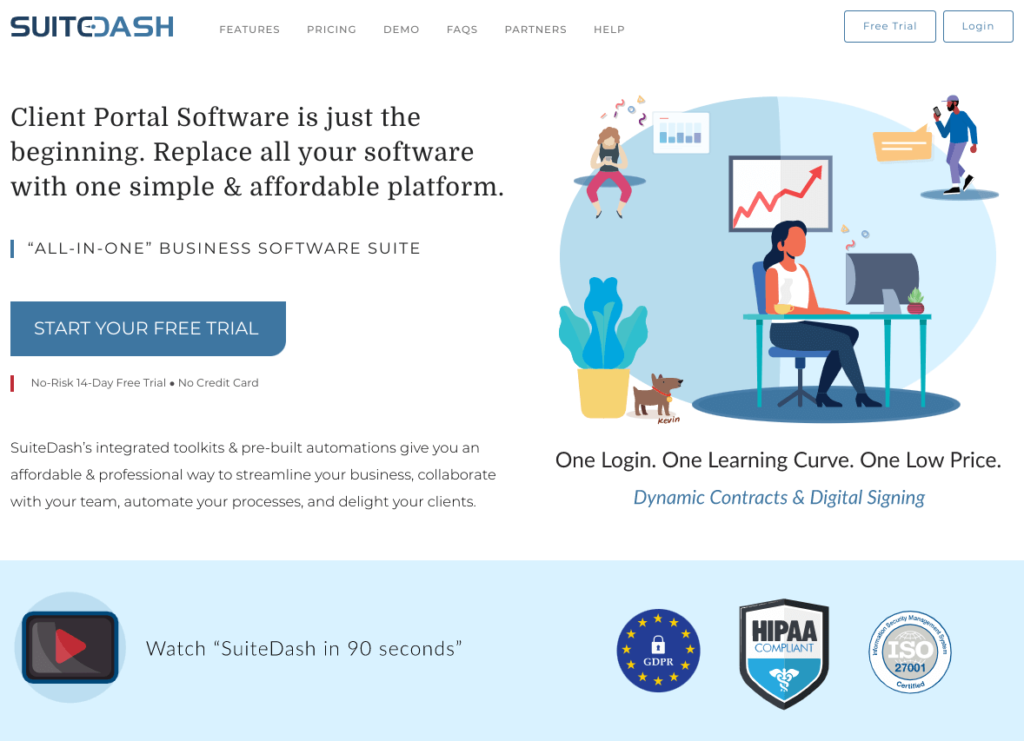 Conclusion
Videos not only explain your product or service efficiently, but when done well they actually increase the time people spend on your website, which in turn boosts your search engine rankings.
SuiteDash software not only educated their website visitors, but also improved key digital marketing metrics by partnering with our team for their explainer video. Want to see your brand featured in an explainer video case study? Contact us today to get started on your own!
---
Start With Your Video Today
Let Sharp Eye Animation create affordable, high-quality video content for your brand!
---
More Case Studies