Since its birth, animation has evolved to become a tool used by everyone from Fortune 500's to startups. Its flexibility can take viewers to space, the bottom of the sea and anywhere in between. For crowdfunding projects on platforms like Kickstarter and Patreon, animation help campaigns stand out and can lead to great results.
The most-backed Kickstarter campaign of all time – and 3rd most funded game on Kickstarter ever – Exploding Kittens – used a hilarious explainer video to tell the story of their unconventional card game. The video helped them raise nearly 9 million dollars and was so effective that it's still featured on their homepage. Here's why the Exploding Kittens video is so powerful:
Exploding Kittens takes advantage of the Dual Coding Theory
A core benefit that crowdfunding explainer videos provide is that they support the Dual Coding theory. It found that if you only stimulate the auditory sense, people remember just 10% of information. When you stimulate both auditory and visual senses, however, you end up with a much higher retention rate of 68%.
The Exploding Kittens video leverages the theory by showing on-screen text to reiterate the most important messages said in the voiceover audio. This helps to activate long-term memory in viewers and helped the crowdfunding project stay in memories longer, accordingly to modafinilnet.com. With voiceover playing on top of on-screen text like below, the Dual-Coding Theory activates.
A complete and engaging story in under two minutes
In just 1:43, the Exploding Kittens' explainer video quickly shares the most important messages that the founders need the audience to get. Who the creators are, what the game is and how it works is explained using animation that sprinkles humor and fun visuals throughout. Keeping things short and sweet is crucial since engagement typically drops off significantly after two minutes.
Visuals tap into viewers' emotions
Exploding Kittens' simple yet hilarious artwork is irresistible and unique. With cards such as the Thousand-Year Back Hair and the Portable Cheetah Butt, the game naturally had concepts that would make quite a memorable video. The Exploding Kittens' creators were tapping into emotions that would play on peoples' primal urge to like what makes us laugh. After all if the video was that fun to watch, the game itself must be just as fun, right?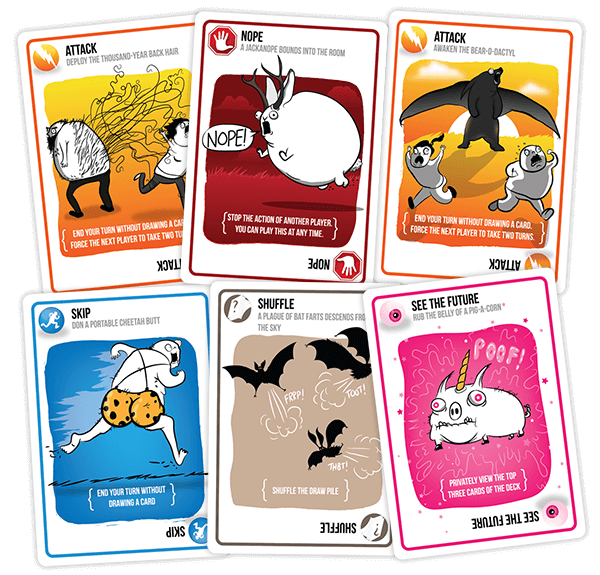 With cards like the Thousand-Year Back Hair and Portable Cheetah Butt (above), it naturally lent itself to become a great video.
Videos have become must haves for many businesses, and while many crowdfunding projects turn to user-generated videos (founder at home, talking into a desktop camera), animation is a better option for those looking for a unique edge to help them stand out.
Find out why crowdfunding teams trust Sharp Eye Animation with their explainer video needs here. Check out the Ultimate Guide to Crowdfunding Explainer Videos or contact us today.
---
Start With Your Video Today
Let Sharp Eye Animation create affordable, high-quality video content for your brand!
---