It's awful when you invest in a great marketing video for your law firm but aren't getting it in front of as many potential clients as you could be.
You add them to your website and share it on social media channels – which is a great start – but you're not maximizing its potential if you stop there.
Including your videos on as many platforms as possible increases the chances that your firm is seen and remembered when potential clients need you the most.
Here are the 7 best places to include your law firm's marketing videos so they get seen:
1. Live broadcast TV commercials
What: 30 second commercials running on live TV in your area. Most broadcast TV stations provide "sweeps" (details on number of viewers, ages, etc) along with an account manager to ensure your commercials are run.
Why: You can reach older and lower-income people in your local region. Great branding opportunity.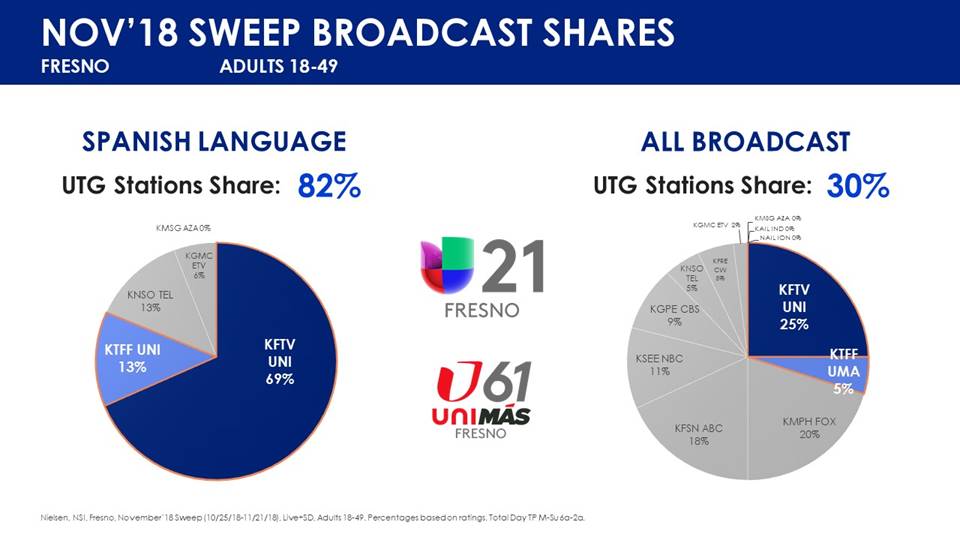 Example "sweeps" above showing reachable audience numbers for Fresno, California market
2. Live broadcast TV "snipes"
What: Snipes are short videos (usually about 10 seconds) that are played below news content on live TV. They're displayed in the lower third of the screen and don't have any audio.
Why: Snipes are typically cheaper than running full 30-second commercials on live TV, and they're another great way to showcase your firm to a regional audience.
3. Social Media platforms
What: Popular social media platforms like Facebook, Instagram, YouTube, Twitter and Linkedin are cost-effective (free) channels that allow you to reach potential clients.
Why: More people are watching videos on these platforms, and the trend doesn't seem to be slowing down any time soon. By including hashtags (#yourlawfirm) in your posts that are related to your area of practice and/or region, your posts will show up in social media feeds when people search those keywords.
4. Paid ads on social media
What: social media platforms (YouTube/Facebook/Instagram/Twitter/LinkedIn) offer you the ability to get your video in front of targeted people.Why: Targeting options are getting better everyday, as you're able to get your videos in front of people based on their search history, income levels, location and more. You typically only pay each time someone watches or interacts with your video (clicks through and visits your website).
5. Google My Business listing
What: Google My Business is an online directory offered by Google that allows you to list your law firm in local search results and Google Maps. Google encourage you to include videos in your listing.
Why: Including videos on your Google My Business listing increases the likelihood of your practice showing up in the organic search results. It's free and easy to set up/manage.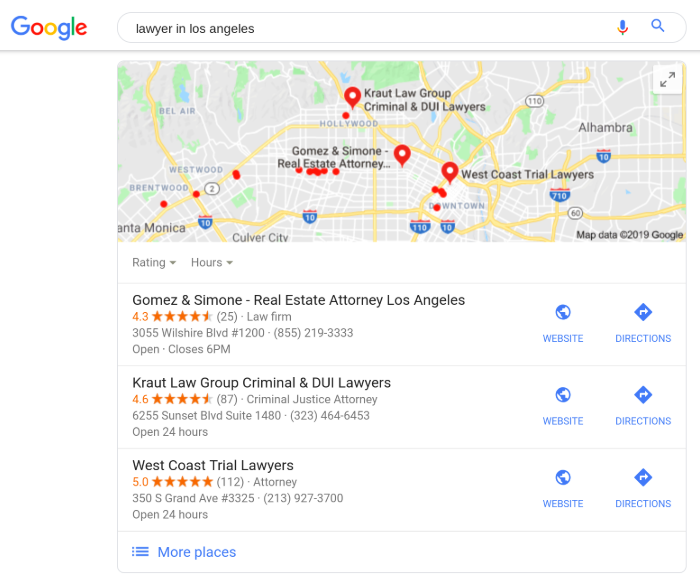 6. Your Avvo listing
What: Avvo's website provides has ratings, reviews, and disciplinary records for lawyers in every state across the US. The platform supports video so you should be including them here.
Why: As potential clients peruse the listing of attorneys on the site, including video on your profile helps you stand out and be remembered.
7. Your practice's website
What: Your website is your digital storefront, where potential clients can find you online.
Why: People are inherently lazy and prefer clicking play and watching a short video instead of reading through a text-heavy web page. Have video on your website helps boost key search engine metrics, making it easier for you to show up on coveted page one of search engine results.
Conclusion
Law firm marketing videos are gaining popularity since they're effective in getting your messages across to would-be clients. To get the most out of your videos, be sure to use them on these platforms and watch your view count (and client base) increase over time.
Since 2012 Sharp Eye Animation has been producing animated videos that help law firms stand out and be remembered. Discover what custom animated videos can do for your law firm here, and contact us today to get started on your own custom animated video.
---
Start With Your Video Today
Let Sharp Eye Animation create affordable, high-quality video content for your brand!
---