Crowdfunding has emerged as an effective way to test a market while gaining the financial support needed to turn your idea into reality. With tens of thousands of campaigns on platforms like Kickstarter, Patreon and IndieGogo, you may have wondered what you can do to make your campaign stand out. For most the answer is video, which has exploded in popularity over the last few years, and is expected to continue its reign as the king of content.
In this post we'll dig into 15 reasons why a great crowdfunding video should be the centerpiece of your campaign's overall marketing strategy.
1. They increase your campaign success
Video is likely the first thing potential supporters see and click on before to making a decision to back it or not. Research by Kickstarter found that campaigns with video are funded at a much higher rate (50%) than campaigns without video (30%).
2. They increase sales
A great crowdfunding video can be your best salesperson and play a major role in driving more campaign support. They can give the perfect pitch every time, and research has found that 90% of people report that product videos help them make purchasing decisions.
3. They help you get found on search engines
Uploading your crowdfunding video to YouTube and optimizing it for your specific keywords improves the chances that you'll get found by would-be supporters. For example, when someone searches Google for your specific keyword(s) and filters results by video, having something on YouTube gives you the opportunity to show up on the results page.  
4. They simplify complex concepts
Animated videos have the power to explain complex concepts unlike any other medium. If your crowdfunding campaign has a complicated technology or abstract concept behind it, using animated visuals can communicate the messages better than live action video (someone speaking into a camera) – and certainly better than just text. The animated "What is Bitcoin" video (below also) does a great job of explaining many complicated cryptocurrency concepts that would take forever to explain using text.
5. They show off your campaign's brand, style and personality
Videos are a great way to show off your personality, brand story and  overall creativity. Exploding Kittens – the most backed Kickstarter campaign of all time and 3rd most supported campaign ever did exactly that with their animated crowdfunding video. The video (below) was featured on their campaign page, website and YouTube channel and ultimately helped them secure over $8M in support.
6. They pack a punch
Audiences today don't want to read through how-to guides to figure out how your product or service works. But clicking play on a one minute video? That's more doable. With video, you can cram a ton into one minute. In fact Dr. James McQuivey of Forrester Research found that a one-minute video is worth 1.8 million words.
7. They increase conversion rates
Including video in your digital marketing strategy, such as in email marketing campaigns and your website can significantly increase click-through rates. Hubspot suggests that just mentioning the word "video" in your email subject line increases open rates 19%. One of our own clients – Athena Software – used an explainer video in their email campaign and saw open rates increase from a typical 12% to over 23%, and their click-through rates from the same campaign increased from 1.5% to 3.5%.  
8. They're entertaining and engaging
Including animation in your crowdfunding video gives you the opportunity to make your story fun and puts smiles on your audiences faces. Plus it shows that you're creative and not like every other corporate business out there.
9. They're versatile
In today's mobile-first world, your crowdfunding video is like a video marketing Swiss Army Knife. You can:
Embed it on your own website

Email it to your audience

Play it at tradeshows and industry events

Play it at sales meetings

Play it on your mobile devices on the go
10. They produce high retention rates
Research conducted by Dr Allan Paivio in 1971 found that combining audio and visuals – such as in a video with voiceover – results in a much higher retention rate in audiences than compared to when just visuals or audio are presented (68% retention rate vs just 10%). In a world where distractions are increasingly present, animated videos combine fun visuals and audio to help your campaign's most important messages stick with your audience.  
11. A crowdfunding video builds trust
Trust is key to building strong relationships with would-be supporters. Incorporating a video marketing strategy in your crowdfunding campaign shows supporters that you're on the cutting edge of technology and that you have more vested than just throwing up a campaign page.
12. They encourage social shares and campaign support
You only get what you ask for, and a crowdfunding video gives you the opportunity to directly ask your audience to support your campaign, share your video and help your campaign succeed. Many campaigns close out their videos by directly asking this from their audiences which reduces confusion and can lead to more support and shares.
13. They can reach targeted audiences
Paid video marketing campaigns on platforms like Facebook and YouTube are increasing in popularity, and are a great way to get your campaign's story in front of more potential supporters. Most platforms offer the ability to target specific demographics like sex, age and location which can be helpful if you're looking to target a specific group of people.
14. They can drive great return on investment (ROI)
Dropbox – the San Francisco-based file sharing software – produced an animated explainer video that resulted in an additional $48,000,000 in revenue. The video cost them $50k which when you crunch the numbers is a solid 1,000% ROI.
15. Video performance is easy to track
Video platforms like Wistia provide useful analytics tools (screenshot below) which helps you see things like who's watched your crowdfunding video, how much has been watched and more. The insights can help you understand into which content is performing best and bringing the most amount of value to your campaign.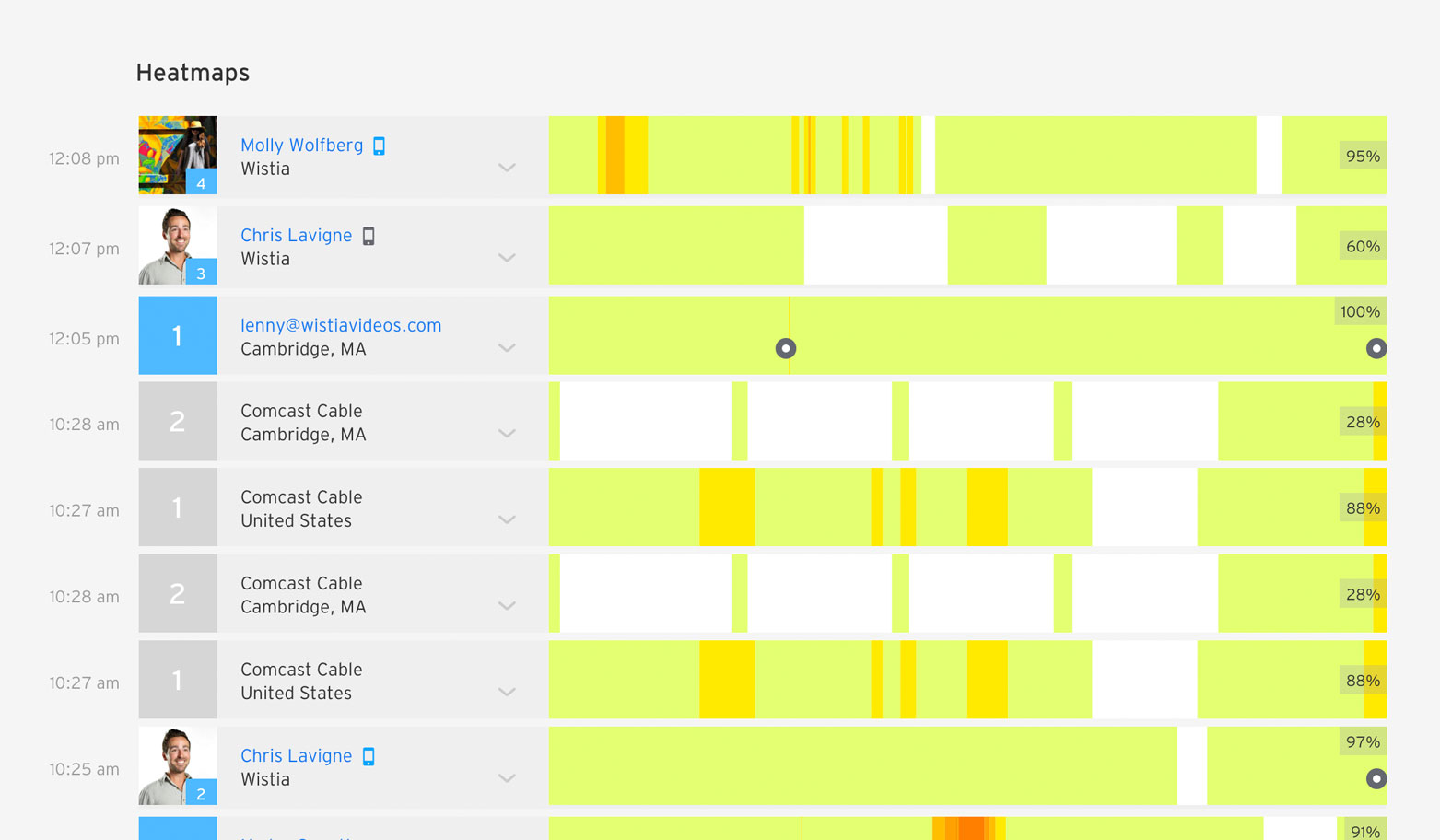 Conclusion
Video has evolved to become more than just a nice-to-have marketing asset, and to a central strategy for most. This rings true especially for crowdfunding campaigns, as more awesome ones pop up everyday. If you aren't already using a crowdfunding video in you campaign, you're missing out on an opportunity to reach more people, tell your story and gain more support. To learn more about using video in your crowdfunding campaign, check out The Ultimate Guide to Crowdfunding Explainer Videos and contact us to get started on your own.